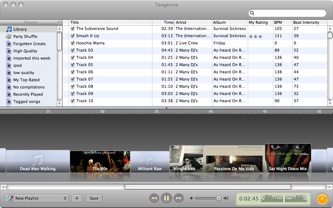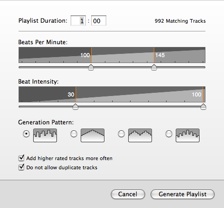 Tangerine is a new music analysis tool for OSX and it addresses my two biggest gripes about these kinds of applications:
It's blazing fast, taking less than 2 hours to analyse my nearly 5000 tracks and 35Gb of music on a 1.5GHz G4 Powerbook.
It actually delivers sensible results (in the main)
First impressions of this fashionably beta application are great, it gets on with analysing your music in the background, and remarkably not slowing everything to a complete crawl. It measures both beats per minute and the beat intensity, and then allows you to build playlists that filter based on those two criteria.
Using the sliders you can see how many tracks meet the criteria in real time and then even choose the profile of intensity that you want the playlist to build.
Finally the actual playlist itself is beautifully designed running along the bottom of the application window, it shows the album art using the width of the box to display the track length and the height its intensity. Mouse over the album art shows track details.
I can actually see myself using this over iTunes for a lot of my listening, especially while working, when I want relatively low intensity tracks picked out at random from the library. Of course if you want to you can save the playlist to iTunes and play it there.

I am sure I will bump into some negatives as I use this more, but so far I am very pleasantly impressed.
P.S. If you blog about it they will give you a free license, though this has not changed my opinion of whether this is a good application or not.