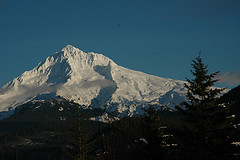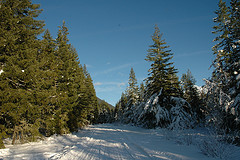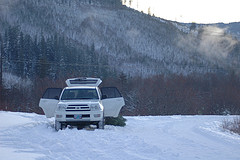 Hayden and I headed out last Sunday to find a Christmas tree. It seemed like a simple plan, drive out to the national forest, go to the ranger station, get the info and get the tree. It went a bit awry early on, overnight storms had cut the power to a lot of the properties out by the national forest on Mt Hood including the ranger station.
Standing around in the snow outside the ranger station we made the decision to plunge into the forest and go find a tree. I am a fairly urban creature by nature, and had thought that forests were full of trees, well it turns out that they are full of trees, just not necessarily Christmas trees.
After about an hour of walking around the forest we returned to the car, drove deeper into the national forest and tried to scope trees from the warmth of the car. Eventually we spotted a clump of suitable looking trees, leapt out of the car, and with a good deal of examining and debate cut down a suitable tree.